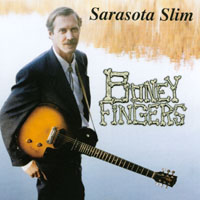 Hi friends, just a quick note to tell you some late-breaking news. This just in...
One of my heroes,
Sarasota Slim
, is coming to Atlanta and has asked me to come play with him at Darwin's tonight (Wednesday 4/9). I'm not sure if I'll be playing the whole evening; he's hired me before, but his email said "bring your guitar and pick a few" with no mention of a business arrangement. No matter, I'll make music with him any chance I can get, or just enjoy sitting and listening. Either way is great. I highly recommend this act; great tones from great guitars, masterful playing, and he's always had an amazing band every time I've seen him.
Darwin's
4/9 9PM $8
1598 Roswell Rd. (Hwy 120)
1 mile east of The Big Chicken (El Pollo Grande)
Marietta, GA 30062 (770) 578-6872
web:
http://www.darwinsblues.com
map:
http://tinyurl.com/2fko
Thursday, I'll be doing a dinner show (6 to 9PM) with
Larry Griffith
at KC Pit BBQ in Sandy Springs, near The Punchline.
KC Pit BBQ
234 Hilderbrand Rd. NE
Sandy Springs, GA 30328 404-459-6497
map:
http://tinyurl.com/2fko
Starting next week, I'll have regular Wednesday night shows with Larry Griffith at Bella Bocca in Marietta (near Nik's on Whitlock).
Bella Bocca (Wednesdays, 9PM)
999 Whitlock Avenue
Marietta, Ga 30064 770-795-8984
As of March 2008, over 6,000 American troops came back from this century's foreign wars (errr, "police actions") only to commit suicide. Various difficulties with family, employment, health, finance, the VA, whatever, drove these incredible men & women to do what Saddam and Osama could not - end their lives. Today at the airport, I passed by some USO volunteers applauding a lone soldier who was coming out of the concourse area. A bit later, a group of male & female soldiers sat down next to me at the Wendy's. When I finished breakfast, I stopped and said "Hey guys, thanks for everything". Did their efforts and sacrifices make America and the world safer and better? The jury's still out, but I sure hope so. If not, it wasn't their fault; even if they didn't believe in their missions (most do) they have to follow orders or they get imprisonment or execution. Think again of the phrase "Support our troops" and remember that whether you agree with their civilian commander-in-chief or not, the well-being of these troops (and their families) is just as much our responsibility as ours is to them. Clearly what our government does for them is not enough (ask any war vet, and remember, over 6,000 suicides!) so the rest is up to us. Do what you can to help and protect the people who protect us. Here's a
good place to start:
http://www.uso.org